Jobs
Reason Why Npower Batch C must Support Batches A and B to Realize Nexit Scheme Exit Package Updates, Requirements and Collection Centers
Npower Batch C device Collection Updates. It has come to our notice that some of the Beneficiaries of the Npower Batch C Programme are yet to receive their Npower Batch C Device unlike Batch A&B beneficiaries.
So we decided to come up with this update to guide you on how you can collect your Npower Batch C device.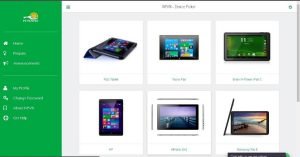 What is NPower Device?
Npower device are gadgets used to assist successful Npower beneficiaries (Npower Volunteers) in the discharge of their duties in their various Place of Primary Assignment (PPA).
For any Npower Volunteer to discharge his or her duties accurately, he/she must make use of the tools in the Npower work gadget.
Read: CBN Nirsal Microfinance Bank Non Interest Loan Portal – Apply Here
In this post, we are going to explain in details on how you can get your Npower Batch C Device, the requirements for device collection and Npower device collection centres for batch C beneficiaries.
Npower Batch C Device/Gadgets for Stream 1&2
There are different types of devices available for Npower batch C Volunteers to choose from.
During npower Batch A&B programme, a list of devices were made available for beneficiaries to select.
Here are the list of NPower Devices/Gadgets
Afri –One
Brian N-power IPAD
Floss Signatures
RLG Adulawo
Samsung Tab E
Speedstar
Techno Pad
Zinox Z Pad
Note, before you can be able to get your Npower device, you will first receive a text message on your registered phone number for detailed instruction on the venue and time for your device collection.
If you have not received any text message for your NPower device collection, it means your device is not yet ready to be picked.
In this case, please don't panic, just be calm it will get to your turn and you will definitely be contacted.
Items Needed to Collect Your Npower Device
When you are contacted to come for your NPower device, please go with the items listed below;
BVN SLIP
Valid ID CARD
RECEIVED SMS
See this: Kebbi State University of Science and Technology Job Openings
NPower Batch C Device Collection Centres
Here is the list of N-Power device collection centres and their locations for batch C beneficiaries;
1. Lagos State:
Address: Ikeja Service Centre 1 Opebi Road, Ikeja, Lagos State
2. Oyo State
Address: Ibadan Service Centre Mobil Roundabout, Ring Road, Ibadan, Oyo.
3. Kwara State
Address: 24,Ahmadu Bello Way, Ilorin, Kwara- State Kwara.
4. Ondo State
Address: 47 Oba Adesida Road ,Ricabin House Akure, Ondo
5. Osun State
Address: Plot 456 Iwo Road By FAN MILK , Osogbo Osun
6. Ekiti State
Address: Ado-Ekiti PNN House Mr Biggs , Ado-Ekiti
7. Jigawa State
Address: Beside Asmau House, Sani Abacha Way, Dutse
8. Katsina State
Address: Shop MH2, Ground Floor, Madugu House, Dustin-Ma Road, Kwaya, Katsina. Katsina.
9. Kebbi State
Address: 3, Jos Road, Opposite Access Bank, GRA Birnin Kebbi, Kebbi State.
10. Zamfara State
Address: AP filling station along Zaria Road, Gusau, Zamfara State
11. Kano State
Address: Kano Service Centre 2 Civic centre, (Behind Kano post office), Kano
12. Sokoto State
Address: Sokoto Service Centre 6, Sultan Abubakar Rd, Opp. Women Centre for Continuing Education
13. Plateau State
Address: Jos 1B Ibrahim Taiwo Rd, Jos Plateau
14. Borno State
Address: Maiduguri Western Roundabout, Baga Road, Maiduguri Borno
15. Yobe State
Address: Maiduguri road Opposite A.A. BAFFA & SONS FILLING STATION Damaturu Yobe
16. Gombe State
Address: No 1 Bauchi road, opposite Oasis bakery, Gombe
17. Bauchi State
Address: 4 Ahmadu Bello Way, Opposite unity park, Bauchi
18. Adamawa State
Address: No 42 Ahmadu Bello Way Opposite NTA Jimeta– Yola Adamawa
19. Taraba State
Address: Lenyol Investment Ltd. Off Taraba Motel Road,G.R.A Jalingo Taraba State Taraba
20. Abuja FCT
Address: Abuja Regional Office & Service centre Plot 2784, Shehu Shagari Way, Maitama, Abuja FCT
See also: Regional Scholarship and Innovation Fund (RSIF) PhD Scholarships (100% Funded)
21. Kaduna State
Address: Kaduna Service Centre Bank Road, Off Ahmadu Bello Way, Kaduna Kaduna
22. Enugu State
Address: Enugu Service Centre 34 Zik Avenue, Enugu
23. Delta State
Address: Asaba Service Centre Km. 129, Benin – Asaba Expressway, Asaba, Delta. Delta
24. Imo State
Address: Owerri 116 Wetheral Road, Owerri Imo
25. Anambra State
Address: Nnewi 15 Nnewi – Onitsha road, Nnewi Anambra
26. Ebonyi State
Address: Abakaliki Connect 38 Ogoja Road opposite FCMB and Bank PHB, Abakaliki Ebonyi
27. Edo State
Address: Benin 89 Akpakpava Road Benin City Edo
28. Rivers State
Address: Port Harcourt Regional Office & Service Centre 330 Aba road, Port Harcourt, Rivers State.
29. Abeokuta Ogun
Address: Abeokuta Connect 7 Lalubu Street, Oke-Ilewo.
Note: Collection of npower device is FREE, please don't pay anyone for collection of device or fee for getting into any of the collection centres.
Share to help others.