Empowerment
CBN Nirsal Microfinance Bank Non Interest Loan Portal – Apply Here
This is to bring to the notice of the general public and all interested applicants that the CBN Nirsal Microfinance Bank Non Interest Loan Portal is now open for application.
In line with the CBN's decision to extend a non-interest window to businesses and households that have been impacted negatively by the Covid-19 pandemic, NIRSAL Microfinance Bank's portal is now open for applicants who are eligible under this scheme to apply.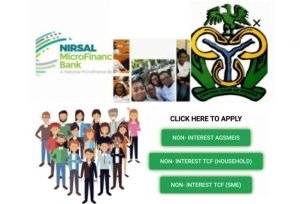 Applicants who didn't make it to the first batch and second batch of the COVID-19 loan can now apply for Nirsal Microfinance Bank AGSMEIS & TCF loan.
Check this out: Kebbi State University of Science and Technology Job Openings
Who is Eligible to Apply for CBN Nirsal AGMESIS & TCF Loan?
1. MSME's with 1-5 staff and verifiable evidence of business activities adversely affected as a result of the pandemic with evidence of job protection for its staff.
2. Hospitality businesses, health (pharmaceuticals and medical supplies) Airline service providers, manufacturing/value addition, trading and any other income generating activities as may be prescribed by CBN and are Shari'ah complaint.
Amount of Non-interest Loan to Access
Financing limit for MSME's is N2,500,000 while Household is N1,000,000.
The Non-Interest Facilities to Households will assist you in the process of building a businesses or expanding an existing business, and maintaining your lifestyle.
Read: Regional Scholarship and Innovation Fund (RSIF) PhD Scholarships (100% Funded)
How to Apply for CBN Nirsal Microfinance Non-Interest Loan
Interested and qualified applicants are advised to Apply via any of the following categories in the Nirsal Loan application portal listed below;
Click on the loan Target Credit Facility (TCF) of your choice and Apply.
You can also visit Nirsal Microfinance Bank website on www.nmfb.com.ng to Apply.
Share to help others.