Scholarships
Mauritius-Africa Scholarship Scheme 2022(Fully Funded) – Apply Here
Mauritius-Africa Scholarship Scheme 2022 is being offered to eligible South Africans who wish to study full-time on-campus for diploma, undergraduate and postgraduate programs. The programs will be conducted at the public higher institutions (HEIs) in Mauritius for the academic year commencing from April 2022.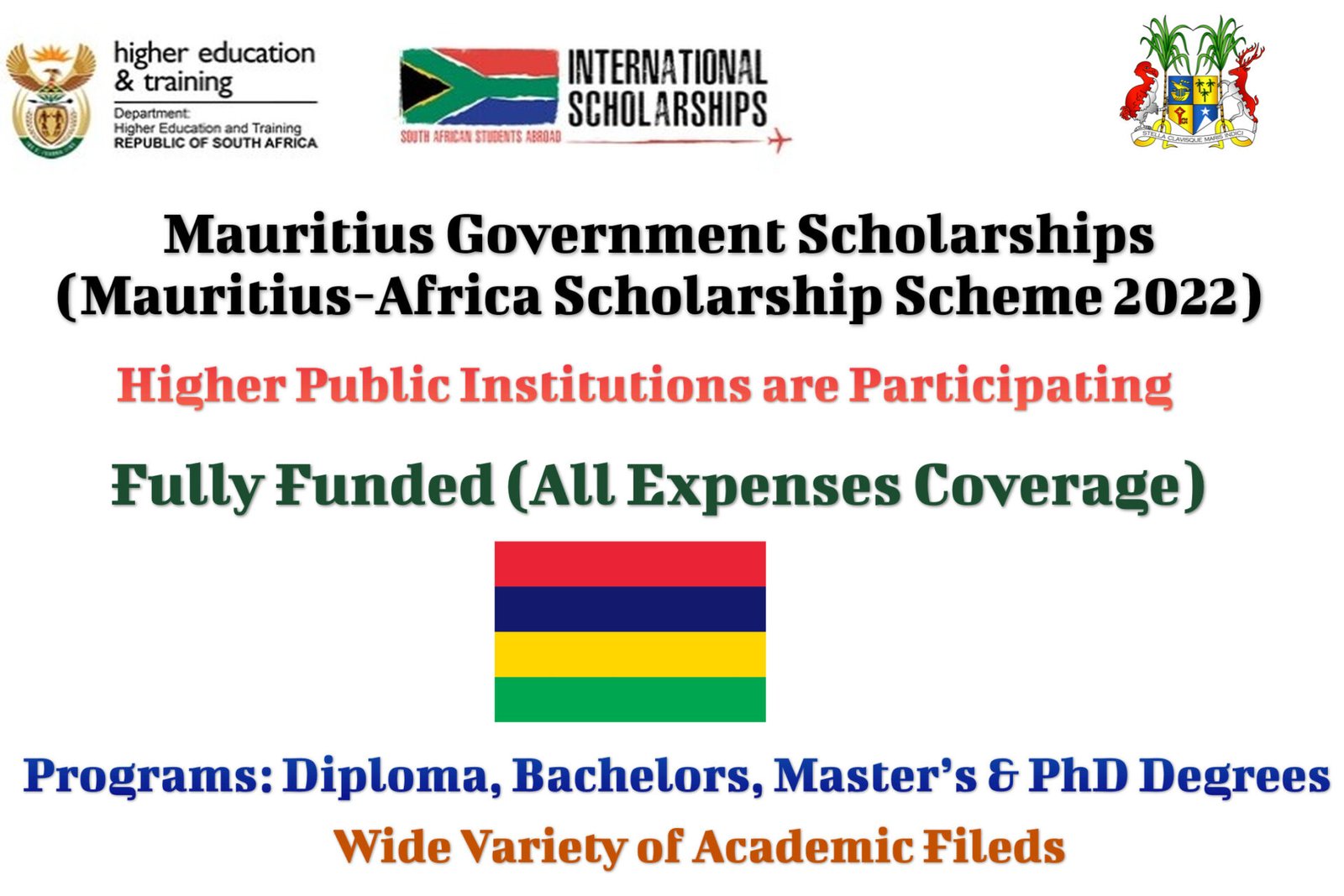 Details about Mauritius-Africa Scholarship Scheme

The scholarship is available for South African nationals, and the applications are sought for the programs mentioned above. The nominating agency is The Department of Higher Education and Training (DHET). The applicants from the eligible countries are required to make contact with their government or local representative of the Government of Mauritius regrading the information on how to apply for the scholarship. This is a Fully Funded Opportunity in which all the relevant expenses of the chosen students will be covered.
Concise Description about Government of Mauritius Scholarship 2022
Below, the description about this scholarship is presented in concise manner.
Host Country: Mauritius
Universities: Nominated Public Higher Institutions in Mauritius
Programs: Diploma, Bachelors, Masters and PhD
Financial Coverage: Fully Funded
You May Also Be Interested in These Scholarships:
Fields of Study for Mauritius-Africa Scholarship Scheme

At the participating institutions under this scholarship scheme, there are a variety of academic fields available for study. For more information, you are required to visit the official page of the scholarship or official pages of the institutions you are interested in applying.
Eligibility Criteria for Mauritius-Africa Scholarship Scheme 2022
To be considered, you need to fulfill the eligibility standards set for the applicants. Let's check them below.
Only the South African national students are eligible to submit their applications.
The applicants should show their interest in studying in Mauritius and also need to demonstrate a commitment to the development of South Africa.
They must have also lodged their applications for a full-time program (on-campus) at any of the nominated public higher education institution in Mauritius for the academic year 2022.
Note: For detailed eligibility criteria, official scholarship page should be visited.
Financial Benefits
The financial coverage available for Government of Mauritius Scholarship 2022 is mentioned as under:
Tuition fees coverage and course relevant costs (up to MUR 100,000)
Monthly stipend (living allowance) to the value of MUR 12,500 (around R 4 500)
The chosen students will be entitled to have free basic health facilities at public hospitals in Mauritius.
Air-fare (return air tickets) to and from Mauritius (economy class)
Deadline for Application
The last submission date for applications submission is 31st January 2022.
Application process
All applicants for the scholarship must have already applied for at least one full-time on-campus programme at a public higher education institution of their choice in Mauritius. Either a conditional offer or proof of application or an acknowledgement of application from a Mauritian HEI must be submitted together with the scholarship application. Application for university admission must be made as soon as the Mauritius institutions have opened their application windows on their respective websites.
Should you not have received your proof of application from your chosen institution by 31 January 2022, you will be required to submit the information including proof of payment of application fees by latest 19 February 2022.
SHARE TO HELP OTHERS.