Scholarships
International Student Scholarship At CQ University Australia
This is a chance for all those who wish to study in Australia at the most prestigious university known for its quality of education and research programs, CQ University Australia is pleased to provide 'The International Student Scholarship (ISS)' to all students of the world. This opportunity is available to all new international vocational, full degree, research, and packaged academic coursework students.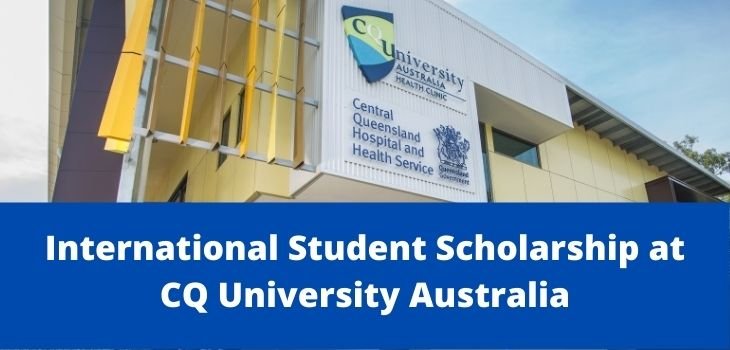 Details about CQ University Australia Scholarships
In year 2021 and 2022, the university puts no restrictions on minimum GPA to earn this scholarship. The applicants, who have received their most recent studies, and are beginning an eligible course any campus of CQUniversity, they will automatically be considered for this scholarship opportunity valued at 25% of their course fee.
Concise Description about The International Student Scholarship (ISS)
Let's now hear describe the scholarship opportunity in a concise manner for the ease of all students.
Host Country: Australia
Host University: CQUniversity
Programs: International Vocational, Undergraduate, Postgraduate (Course work) and Postgraduate (Research)
Financial Coverage: Funded (25% Scholarship Availability on Course Fee for new students)
Length of Scholarship: Duration of the course
See more available scholarships:
Number Availability: Unlimited
Deadline for Applications: Going on (for updates, visit the official website)
onor Details for Scholarship
These Central Queensland University scholarships for international students are funded by CQUniversity Vice-Chancellor, who is the donor of this opportunity available to all students of the world.
About CQUniversity Australia
Central Queensland University is a public university located in Central Queensland in Australia. It is the only university in Australia having campuses in all mainland states. It was founded in1967.
As for Central Queensland University ranking, it ranks among top 650 universities in the world according to QS World University Rankins of 2022. It is regarded high as one of the strongest research and teaching institutions.
Eligible Criteria for CQ University Australia Scholarships
To be considered for the opportunity, the applicants need to fulfill the eligibility standards set by the university mentioned as under:
Nationalities: All nationals of the world
Ethnicity: Any
Study Program: English Language + Academic, VET, Undergraduate, Postgraduate (Course work) and Postgraduate (Research)
Study Load: Full-time studies
Study Mode: on-campus studies
Study Region: Brisbane, Adelaide, Bundaberg, Gladstone, Melbourne, Cairns, Mackay, Rockhampton, Townsville, Perth and Sydney
Gender: Any
Important Note: The applicants are required to read complete eligibility criteria and selection criteria mentioned on the official website before processing and submitting their applications. It is very important and necessary. Click Here to Read
The value of this scholarship opportunity is 25% and it is available to all new international students starting their studies for the first time at CQUniversity Australia. This opportunity is not available for present students of the university.
Supporting Documents for The International Student Scholarship (ISS)
The applicants are required to provide their all certified or original translated academic transcripts and certificates so that they can be accessed.
Application Deadline

There is no specific deadline for this scholarship facility. The applications are going on, and you can submit your applications now.
How to Apply for CQ University Australia Scholarships
The application process for CQ University Australia scholarships is simple and online. You should read the official details, Click Here. The applicants need to apply for international student scholarship by the time they submit their applications for research, vocational, full degree or packaged academic course simultaneously through university's Online System iStart. The applicants may monitor the application status and outcome through iStart.
SHARE TO HELP OTHERS.