VISA
Lucky Boy Survives after jumping from the Collapsing Gerrard building at Ikoyi into another building
Advertisements
Sposored Links
A boy is lucky to be alive after jumping off the building that collapsed today in Ikoyi.
As the building was collapsing, the boy is said to have jumped off it, into another compound.
The boy was covered in dust and sand but he wasn't critically injured and was able to walk on his own.
A photo shared from the scene shows people looking at him in amazement.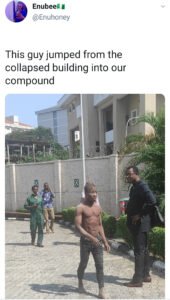 Sponsored Links