Empowerment
FG to Lift 100M Out of Poverty via NYSC Trust Fund – Register Here
Advertisements
Sposored Links
NYSC Trust Fund will help in actualizing President Buhari's vision of lifting 100 million Nigerians out of unemployment before the next 10 years.
As Stated by NYSC Director on Special Duties, Alhaji Musa Abdullahi said this during a session with newsmen. He said that no fewer than 500,000 Corps members had trained and empowered under its Skill Acquisition and Entrepreneurship Development (SAED).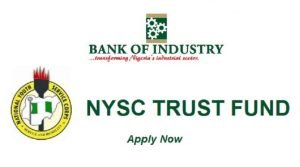 Abdullahi said the NYSC Director-General, Brig. Gen. Ibrahim Shuaibu, had proposed the establishment of NYSC Trust Fund to serve as a strategy to help actualise Buhari's vision of lifting 100 million out of poverty.
The NYSC Director said the trust fund will also provide resources for the training and empowerment of corps members, especially on skill acquisition and entrepreneurship development when established, noting that the strategy will end poverty as the president has envisaged to lift 100 million out of poverty by 2030.
Read: Shell/PETAN Graduate Internship Program 7th batch​ 2021 – Apply Here
Also, he revealed that successful partnership initiatives with funding institutions such as the Bank of Industry (BOI) and the CBN would provide start-up capital for Corps entrepreneurs.
NYSC Trust Fund
The NYSC Graduate and Entrepreneurship Trust Fund Scheme is a brainchild of the Bank of Industry (BOI) in alliance with the National Youth Service Corps to offer business loans to serving Corps members.
How NYSC Trust Fund Works
If you want to apply and be selected for this loan, you must have partaken in the:
Screening practice
4-day intensive training of GEF
Submission of a feasible business plan within BOI's policy. You can check on www.boi.ng.
What are the required documents for the documentation?
Workable business plan
Valid ID card
Supporting NYSC documents
What are the collaterals for this loan?
NYSC certificate: undertaking will be signed by the NYSC Directorate to not release the certificate until loan is settled.
One external guarantor who must be of: Level 7 civil servant, Banker (officer), Medical Doctor, Lawyer, Clergyman, Accountant, Elected public servant, Senior staff of reputable companies.
How to register
The details about the repayment plan will be made available to you upon the approval of your loan application. 2022 NYSC Trust Fund Application Form & Link Portal – FG to Lift 100M Out of Poverty via Trust Fund
Feel free to ask us questions about this article our team will respond to you, we promise to update you if there are any changes. All you need to do is to follow us via social media platform.
Share to help others.
Sponsored Links