Super Eagles winger, Samuel Kalu, who plays for Bordeaux in France, collapsed on the pitch during a Ligue 1 clash with Marseille on Sunday August 15.
The 23-year-old Nigerian dropped to the ground just five minutes into their game amid soaring temperatures at the Stade Velodrome. The incident sparked concern for Kalu as players from both sides called for medical attention.
Read: Muson/MTN Foundation Music Scholarship Program 2021/2022 for Musicians.
At one point, the players formed a human shield around Kalu while he was being treated on the field in scenes similar to what was seen when Christian Eriksen suffered a cardiac arrest in Demark's Euro 2020 opener against Finland.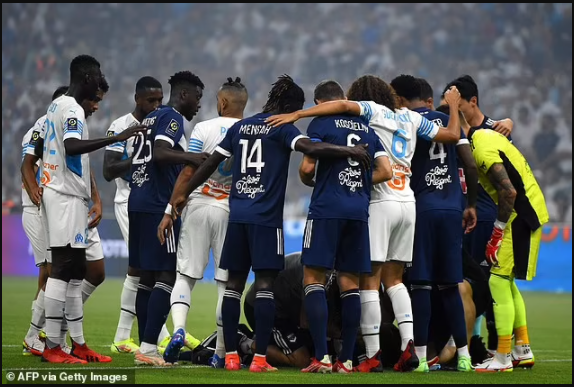 Thankfully, Kalu made a quick recovery and was able to stand on his feets. He was walked off the pitch by his teammates while holding an ice pack against his head but later returned to carry on playing before he was substituted for Remi Oudin.
The Nigerian was given a standing ovation by those in attendance for his brave attempts to play on following his collapse.
The cause of the incident is not yet known but it is not the first time he has collapsed on a football pitch. Kalu collapsed during the Nigerian team's training session during the African Cup of Nations back in 2019 as a result of 'severe dehydration'.
"Kalu's incident gave us chills. It's always a bit shocking for spectators and players on the pitch," said Oudin who went on to score in the 2-2 draw."
"With what happened with Eriksen at the Euros, we think about it. Everyone got a little scared. Fortunately, it ended well.
Related: Dress worn by Yusuf Buhari's bride to be Zahra Nasir Bayero on her bridal shower finally draws comments From Hisbah 
"According to the doctors, it's a simple discomfort but he will certainly be undergoing tests on Monday."
"I was thinking about what happened during the Euro," admitted Bordeaux coach Vladimir Petkovic.
"With the medical team, we chose to replace him so as not to take any risks. In these cases, football takes a back seat."
His collapse for Bordeaux brought back memories of Eriksen's collapse during the Euros. The Danish midfielder's life was saved when CPR was administered to him on the pitch and his heart was re-started with a defibrillator before he was taken to hospital, where he recovered after undergoing heart surgery.