Jobs
UBEC Recruitment 2020 – Federal Teachers Scheme and How To Apply
Advertisements
Sposored Links
Applications are invited from eligible candidates for current recruitment into the Federal Teachers Scheme (FTS) for 2020/2021 session. The Federal Teachers Scheme (FTS) is a two-year intervention programme established by the Federal Government in 2006 to assist States in addressing teacher shortage at the basic educational level.
UBEC Recruitment 2020 Eligibility
Only candidates who fulfill the following conditions need to apply va the FTS recruitment Portal by filling the application form.
UBEC Recruitment 2020 Educational Qualifications
•Must possess Bachelor's degree in Education or Bachelor degree with Postgraduate Diploma in Education (PGDE), of not lower than Second Class (Lower Division) and not earned earlier than 2014. •Must have completed or been exempted from the NYSC Scheme.
UBEC Recruitment 2020 Subject Area
•Nigeria Certificate in Education (NCE) with credit passes in Teaching Practice and the Teaching Subjects, and not earned earlier than 2014, with specialisation in any of the following subjects:
English Language
Mathematics
Integrated Science
Biology,
Chemistry
Agricultural Science
Home Economics
Computer Science
Technical/Technology Education
Computer Science or Information Technology Nigerian Languages
Physical and Health Education
•Not more than 35 years of age
•Not currently employed or enrolled under the NYSC, N-Power or any similar programme.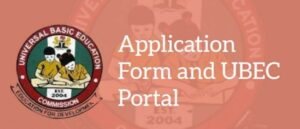 UBEC Recruitment 2020 Duration
The service period is for two (2) years or as may be determined by the Universal Basic Education Commission.
UBEC Recruitment 2020 REMUNERATION The Federal Government shall pay each participant an allowance of N30,000.00 per month.
METHOD OF APPLICATION FOR UBEC
Recruitment 2020 Application Form shall be completed online. Interested candidates who fulfill the above listed eligibility criteria should visit https://fts.admissions.cloud to complete and submit their application Forms online. Candidates will be required to upload their credentials (as listed on the site) together with their most recent passport photograph. The application portal shall be open for two (2) weeks, from 10th – 24th September, 2020. There will be no extension.
Sponsored Links