Scholarships
Fully Funded ETH Zurich Masters scholarships in Switzerland
Applications for ETH Zurich's Excellence Scholarship and Opportunity Program (ESOP) are now open for the 2022-2023 academic year. ETH Zurich Master's scholarships cover all study and living costs for the duration of the Master's program.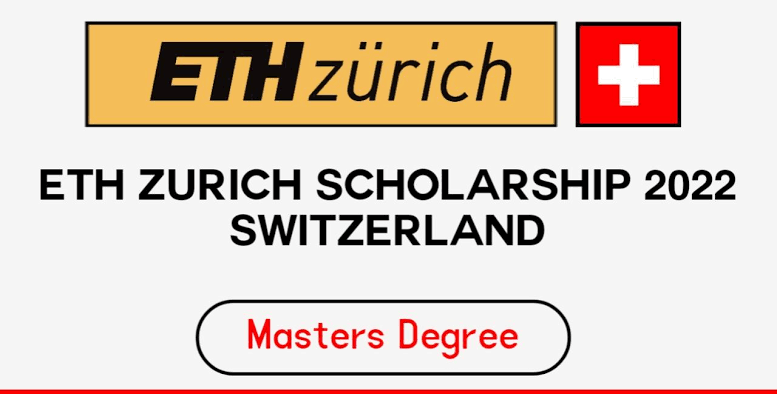 ETH Zurich is a public research university located in the city of Zurich, Switzerland. With a mission to train engineers and researchers, the university mainly focuses on science, technology, engineering and mathematics.
In the 2021 edition of the QS World University Rankings, ETH Zurich was ranked 6ᵉ in the world, placing it as the second-best European university after the University of Oxford. In the subject ranking, it ranked 4th in the world for engineering and technology, and 1ᵉʳ for earth and marine sciences.
ETH Zurich scholarships in nutshell
DEADLINE : December 15, 2021.
LEVEL : Master.
FINANCING : Fully funded.
OPEN TO : All nationalities.
HOST COUNTRY : Switzerland.
Amount and duration of the scholarship
ETH Zurich Masters scholarships cover living and study costs: CHF 12,000 (USD 13,027) per semester as well as tuition waiver.
The scholarship is awarded for the regular duration of the master's program (three or four semesters). This also applies to the tuition fee waiver.
The scholarship will be paid in three or four installments. Each individual payment is issued at the start of the semester.
The Karolinska Institutet Global Master's Scholarships
Eligibility criteria
In addition to the conditions imposed by the master's program, to be eligible for ETH Zurich scholarships, you must have an excellent result during your Bachelor studies.
If you are already enrolled in a Master's program at ETH Zurich, or hold a Master's degree, you are not eligible for ESOP.
Master programs available at ETH Zurich
Engineering Sciences:
Data science
Biomedical engineering
Biotechnology
Computational biology and bioinformatics
Computational Science and Engineering
Computer Sciences
Cybersecurity
Electrical engineering and information technology
Mechanical Engineering
Science of materials
Micro and nanosystems
Neural systems and computing
Nuclear engineering
Process Engineering
Quantum engineering
Robotics, systems and control
Architecture and civil engineering:
Architecture
Civil engineering
Environmental genius
Geomatics
Spatial development and infrastructure systems
Integrated building systems
Landscape architecture
System oriented natural sciences:
Earth Science
Environmental sciences
Agricultural sciences
Health Sciences and Technologies
Food science
Atmospheric and Climate Sciences
Applied geophysics
Natural Sciences and Mathematics:
Biology
Chemistry
Chemistry and bioengineering
High-energy physics
Interdisciplinary sciences
Mathematics / Applied Mathematics
Pharmacy
Pharmaceutical Sciences
Physical
Quantitative finance
Quantum engineering
Computational Science and Engineering
Statistics
Fully Funded Japan Summer Internship 2022 – Apply Here
Management and social sciences:
Comparative and international studies
Science education
History and philosophy of knowledge
Science, technology and politics
How to apply for ETH Zurich scholarships?
Applications are to be submitted via eApply.
In addition to the documents for admission to the master, you will need to upload a pre-proposal for your master thesis. See the specifications here ( PDF, 70 KB ).
The master thesis pre-project should be developed by yourself and use the established practice of scientific citation. Plagiarism, negligent or intentional disinformation will result in exclusion from the admission procedure or – if discovered later – revocation of admission and any scholarship.
If your study program does not require referrals, you must nominate two referees for your scholarship application.
For any information, contact : studienfinanzierung@sts.ethz.ch