VISA
one of the girls kidnapped in Chibok in 2014, Ruth Apagu returns home with 2 kids
Advertisements
Sposored Links
After seven years of being in Boko Haram captivity, Ruth Apagu, one of the girls that were abducted by Boko Haram terrorists in chibok seven years ago has reunited with her family.
In April 2014, Boko Haram terrorists kidnapped over 200 girls from Government Girls' Secondary School (GGSS), Chibok.
In the last seven years, 103 of the girls have been rescued.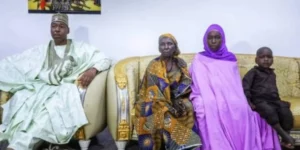 On Saturday, August 7, 2021, Borno State Governor, Babagana Zulum, confirmed Apagu's return.
According to Isa Gusau, Zulum's spokesman, the victim was married to a Boko Haram fighter and returned with two children she had while in captivity.
The Chibok girl and her husband were said to have surrendered to Nigerian troops on July 28 at a location in Bama, Borno state.
Speaking on her return, governor Zulum said, "I am extremely excited both as Borno's governor and father of all sons and daughters of the state and also as a father to daughters.
"I know the feeling of families of those still under captivity but we have to remain hopeful especially with today's development."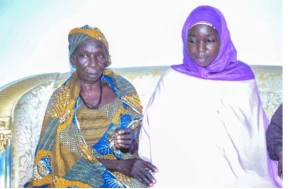 Yakubu Nkeki, chairman of the Chibok Girls Movement, said the people of Chibok appreciate the efforts of security operatives in rescuing their daughters.
The governor commiserated with families of those still in captivity and urged them to remain optimistic and prayerful.
Share this story
Sponsored Links