VISA
Dress worn by Yusuf Buhari's bride to be Zahra Nasir Bayero on her bridal shower finally draws comments From Hisbah 
Advertisements
Sposored Links
The Hisbah Commission for the Promotion of Islamic Teachings in Kano State has finally reacted to the dress worn by Zahra Nasir Bayero, the daughter of the Emir of Bichi, during her bridal shower.
Zahra Nasir Bayero is to wed Yusuf Buhari, the son of the President of Nigeria, Muhammadu Buhari.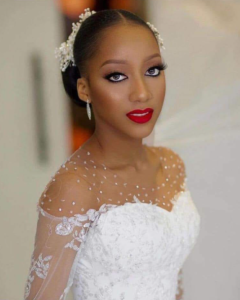 For her bridal shower, she wore a figure-hugging lacy white dress that was transparent around the shoulder and arms. She also went without a head covering and this raised dust as people questioned why the morality police in northern Nigeria has been silent about her mode of dressing but will not hesitate to "punish" poor Muslims if they wear a similar outfit.
See also
Regional Counter Fraud Advisor-SSA at British Council

Meet The Ladies of the Bbnaija Season 6 "Shine Ya Eye" Housemates
Nigerians accused Hisbah of being biased in favour of the children of rich Muslims.
Responding, Hisbah commander Sheikh Harun Ibn Sina told the BBC that the Sultan's daughter is not above the law and should lead by example if she wants to be blessed in her marriage.
Ibn Sina also criticized those spreading the photos and videos of Zahra Bayero in the dress, saying it was a crime to spread such images.
Share this story
Sponsored Links