VISA
Lagos Politician Killed during APC Rally
Advertisements
Sposored Links
Nigeria lost one of its politicians during an All Progressives Congress (APC) rally in Lagos state on Thursday, July 8. This happened when the ruling party's campaign in the state turned rowdy and bloody, leading to the death of Samuel Kayode who was the vice-chairman of the NURTW. The APC member was shot dead by thugs while he was trying to shield a colleague from being harassed during the rally.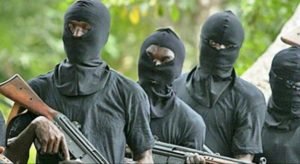 Read this: Police Thwarts Cult Initiation ceremony in Delta State, 28 suspected cultists and many others arrested
The leadership of the National Union of Road Transport Workers (NURTW) in Lagos has confirmed the murder of its vice-chairman, Samuel Kayode (aka Ekpo Kinkin). According to Jimoh Buhari, the spokesman of the union's chairman, Musiliu Akinsanya, Ekpo was shot dead by miscreants on Thursday, July 8.
Buhari told Punch that the tragedy occurred during an All Progressives Congress (APC) rally in the Agboju area of Lagos.
He disclosed that Ekpo, who doubled as an APC member, was killed by thugs who hijacked the rally while he tried to protect another politician from being harmed. His words: "He was protecting a fellow politician, Wale Yusuf, from harassment when the gunmen shot him dead." Quoting another APC member on the incident, Vanguard reports: "Ekpo Kinkin was a very popular person in this area. He was shot, right in Oriade LCDA secretariat, close to Agboju police station. "During the stampede caused by the gunshot, a man suspected to have pulled the trigger, was said to have been seen walking casually out of the premises."
See also: Police arrest two suspected human traffickers in Niger State, 5 female victims rescued
However, the police command in Lagos is yet to confirm the report and release details on the sad development.
Sponsored Links