VISA
5 TRUE FACTS ABOUT COVID 19
Advertisements
Sposored Links
Coronaviruses are zoonotic. This means they are normally transmitted between animals and people. The coronavirus disease (COVID-19) is caused by a new strain of coronavirus (SARS-CoV-2) that has not been previously identified in humans. It was first reported to WHO on the 31st of December, 2019 in Wuhan, China. Here are five true facts about the COVID-19 that you should know.
1. MOST PEOPLE WHO GET COVID-19 RECOVER FROM IT
I know this may seem rather controversial considering the news headlines on the COVID-19 death tolls we see on a daily basis. But the truth is most people who get COVID-19 have mild or moderate symptoms and can recover thanks to supportive care. If you have a cough, fever or any difficulty breathing, then seek medical care early – call your health facility by telephone first. If you have fever and live in an area with malaria or dengue seek medical care immediately.
2. PEOPLE SHOULD NOT WEAR MASKS WHILE EXERCISING
The wearing of the facemask is what many of us have gotten accustomed to. Since we wear it to virtually everywhere we go to, some people might even think wearing it to gym should be a good idea.
But people should NOT wear masks when exercising, as masks may reduce the ability to breathe comfortably.
Sweat can make the mask become wet more quickly which makes it difficult to breathe. It also promotes the growth of microorganisms. The important preventive measure during exercise is to maintain physical distance of at least one meter from others.
SEE ALSO Guinness Nigeria PLC Recruitment 2020 – Apply Now
3.THE CORONAVIRUS DISEASE (COVID-19) IS CAUSED BY A VIRUS, NOT BY BACTERIA
The virus responsible for the cause of COVID-19 is in a family of viruses called Coronaviridae. Antibiotics do not work against viruses.
Some people who become ill with COVID-19 can also develop a bacterial infection as a complication. In this case, antibiotics may be recommended by a health care provider.
There is currently no licensed medication to cure COVID-19. If you have symptoms, call your health care provider or COVID-19 hotline for assistance.
4.DRINKING OF ALCOHOL DOES NOT PROTECT YOU AGAINST COVID-19 AND CAN BE DANGEROUS TO HEALTH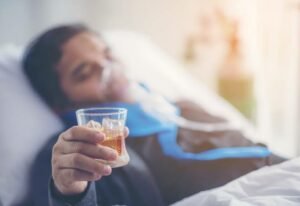 Drinking of alcohol does not prevent us from infection against the coronavirus.
Alcohol-based sanitisers to wash your hands are one thing, but consuming alcohol for prevention COVID- 19 is quite another. Ever since the outbreak of COVID-19, Opinions and theories have been circulating around social media that drinking alcohol offers protection against the coronavirus; in Iran, media has reported how this led to a binge drinking session that eventually left dozens dead.
SEE ALSO UBEC Recruitment 2020 – Federal Teachers Scheme and How To Apply
5.ADDING PEPPER TO YOUR SOUP or OTHER MEALS DOES NOT PREVENT or CURE COVID-19
Hot peppers in your food, though very tasty, cannot prevent or cure COVID-19. The best way to protect yourself against the new coronavirus is to keep at least 1 metre away from others and to wash your hands frequently and thoroughly. It is also beneficial for your general health to maintain a well balanced diet, stay well hydrated, exercise regularly and sleep well.
Sponsored Links