Jobs
First Officer – ATR 72-600 needed at Green Africa Airways
Advertisements
Sposored Links
Green Africa is a value airline based in Lagos, Nigeria. We are a new carrier that offers safe, reliable and affordable air travel to a much broader group of customers. This positions us as a significant contributor to the economic development of Nigeria and the African continent.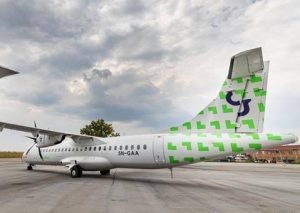 Green Africa Airways is recruiting to fill the vacant position below:
Job Title: First Officer – ATR 72-600
Location: Nigeria
Experience Level: Professional
Read: Rivers State University Teaching Hospital (RSUTH) 2021/2022 Internship Programme
Job Role
The First Officer acts as second in command of the aircraft supporting the Captain of the aircraft during all normal and abnormal situations so that safety is maintained at the highest possible level.
The First officer will also set, maintain, demonstrate high standards in all aspects of their position and act as the brand ambassador for Green Africa, so that the corporate image is always upheld.
Other responsibilities include:
Maintain the safe day to day operation of the aircraft as the second in command.
Set an example to be followed by all crew to preserve the corporate manage of Green Africa.
Ensure all policies and procedures are adhered to by all members of crew.
Notify the company or NCAA of any breaches in SOP or safety through the appropriate reporting medium so that lessons can be learnt by the company to enhance flight safety.
Ensure he/she is fit to always fly and notify the company if not.
Operate the aircraft according to the approved policies and procedures as determined by Green Africa and the NCAA.
Qualifications
Hold an NCAA Airline Transport Pilot License (a valid ATR42/72 type rating is preferred)
Hold a valid Class 1 medical certificate
Hold English to ICAO level 4 or above
Must have the right to live and work in Nigeria
Demonstrate excellent problem solving, CRM and team working skills
Demonstrate command potential
Must have good knowledge of ATPL subjects
Ability to perform to a high standard when under stress
Must have flown within the last 24 months
Recommended: Auto Insurance Explained: Everything You Need To Know
Experience:
At least 1,000 hours total flying time
At least 500 hours on modern (EFIS), multi-crew, multi-engine transport category aircraft
International aviation experience is preferable.
Skills:
Excellent problem solving skills
Strong communication skills
Collaboration.
How to Apply
Interested and qualified candidates should:
Click here to apply
Commitment to Excellence: Our commitment to cultivating a world-class brand with exceptional customer service and superior safety standards relies on every new talent joining Green Africa Airways to identify and co-opt Green Africa Airways Safety Management System (SMS), Safety Policy, Security Policy, and People and Culture standards
Sponsored Links